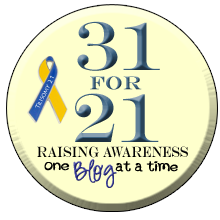 It's that time of the year again - October means Down Syndrome Awareness Month!
By now I think most people know all about the challenge, what "31 for 21" stands for, what the challenge is, what to do etc. But for the new bloggers out there here is a quick summary:

- Trisomy 21 is 3 copies of the 21st chromosome (ie Down syndrome).
- Oct is National Down Syndrome Awareness Month
- There are 31 day is Oct
- Blog every day in Oct (31) to raise awareness of Down syndrome (T21)
- So ... 31 for 21 Blog Challenge
Today was a pretty typical Monday. We had to pick up Ryan after school today and then go to pick up Matthew's trumpet from the music store. Then we came home, had a snack and Miss Lynnette came for Occupational Therapy. Since we hadn't done homework yet, she helped out with that and then worked on Matthew's handwriting with a program on the iPad.
On a different note, my goddaughter, Katherine, will be in a movie that will show on CartoonNetwork this coming Sunday night at 6pm. They released her music video today and her song on iTunes and I couldn't be any more proud of her!!!!!
And tune in Sunday night at 6pm for The Contest!!!!!
Contest is about a bullied high school student is suddenly befriended by his chief tormenter and together they face challenges that will change their lives forever.
Contest addresses the highly topical issue of school bullying. It is the rare film that addresses a socially significant issue in an artful, power way that is both compelling and entertaining. The youthful energy of the songs and original score highlight the powerful emotions of Contest. At its core, Contest is a coming of age story with the themes of trust, redemption, and the enduring power of friendship.