but I'm here! :) Sit back and buckle up though - it's a long one! :)
Let's see - we celebrated Ryan's 9th Birthday! How did he get to be 9???? He is just growing up so very much, it seems. Getting to be much more adventurous and trying things out a little. Helping with his brother and attempting to listen - LOL! I got next to no good photos of him opening his presents from us on his birthday, but the weather co-operated on Party Day luckily! We had a total of 8 kids here with Ryan and Matthew. Got to play outside with them the whole time, which was NICE! We took Mattthew to Grandma's house in the morning and took Ryan out for a day with just the 2 of us. We went to Golfland and played minigolf and laser tag. Took him to eat at - where else - Burger King and then to WalMart to spend a GC that he got for his Birthday. REally enjoyed spending time focusing on just him. He was so funny, because he was just in such a HURRY in the mini golf! Racing through everywhere as fast as he could. We tried and tried to get him to slow down and relax and take his time! Laser tag was pretty fun! They kept score for us - but it didn't really match up with what we thought - Michael's wasn't keeping score and he ended up in last place. Um - this is a miltary man - that's so not going to happen - LOL! No - no photos of the Golfland adventure - no camera, just time spent with 2 of my guys! :)
Once again - straight out of the camera, or I'd never get to showing them here! ;)



I made cupcakes again this year. We bought a ton of different sprinkles and let them loose on the backporch with them to decorate their own cupcakes! Fun! Hillarious to see them try to get as many on their cupcake as they can!



Pinata - of course! He had a slight Army theme - invites, dog tags and parachute army men to give away.



Another cute food creation with Matthew's OT...



Matthew had his little program at his school last week. I should have spoken up - they were going for the spotlight effect on the kids, but I got NO good photos... :(


With his tree done at school...



Yet another visit with Santa! I was lucky enough to be working in his classroom the day they had a visit from St. Nick!


About as good as it has gotten so far this year for a photo in Santa hat's in front of the tree - LOL!



The cute little gifts Matthew gave to his classmates (there's only 5!). I did a tag with Ryan's photo on it to top the pencils that he gave to his classmates, but forgot to photograph them! :0


Tags are done with Laura's super cute tags from the Boutique!
These are the Teacher/Therapist gifts for this year. I wasn't sure what to do this year. Wasn't too keen on making tons of things again. We have 11 gifts to do. Michael suggested Cold Stone Creamery GC's - so that's where I started. We could only afford $5 each, so I made Gina's fudge and these cool pretzel treats that I found in Family Fun magazine, a candy cane, a card from us, a candle, and the snowman handprint that the boys did (photos to come later) in the cute little bucket that I found at $1 Spot at Target. Relatively inexpensive and relatively little fuss - thank goodness!


A few layouts to share! Very few and I'm itching to do some new ones, but just can't spare the time... I have tons of wonderful photos, butt loads of layout ideas and plenty of new kits to play with, but no time...
I love how this layout turned out! It was one of those that just flowed too....


Credits: All items from "Fruitcake Collection" - "Spiced Dark Paper Pack" & "Element Pack" *coming Thursday* except black cardstock from "Little Black Dress" by Jan Crowley at The DigiChick Boutique. Date stamps "Day Planner 1&2" by Heather Roselli at The DigiChick Boutique. Paper tear by Steph Krush at Digital Paper Tearing. Font is Jenn Olson.
This photo just called for something a little fun! :) Journaling: Say, can I have a bite of that?


Credits: "Peppermint Lane" kit by Laura Alpuche at The DigiChick Boutique. Date stamps "Day Planner 1" kit by Heather Roselli at The DigiChick Boutique. Paper tear by Steph Krush for Digital Paper Tearing. Fonts used are Jenn Olson and Amazone BT.
Journaling reads: At the DS Network's Christmas Party, not only did you get to meet Santa, but he painted a candy cane on your hand also! You were so enthralled with it that you "loved" it right off your hand within the hour!

I made ornaments for the family from porcelain ornaments that I found from Michael's this year. Took the photo - Mod Podged it on the ornament, painted the year on the back and tied a ribbon on the top - super easy too! :)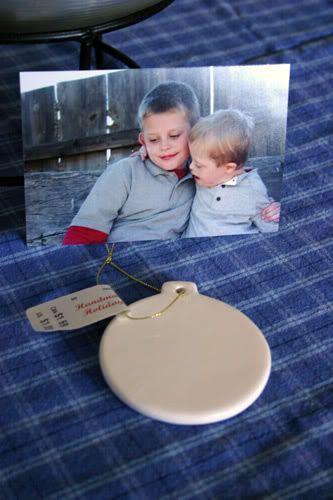 Sketch Challenge 6 by Racheal Giallongo for The DigiChick used for this layout. Credits: "I Believe" kit by Rachel Solenberg for The DigiChick Boutique. Font is Jenn Olson.
Journaling reads: For the past 2 years, I have made a clear glass ornament with your photo in it to give to the immediate family. This year, I found porcelain ornaments to use. I love these ornaments and look forward to putting them on the tree each year! I think the family loves to receive them each year also!

Michael has moved to his new position within the company. It is more hands on with the airplanes, which he loves and in a hanger most times, which is good too. It has steady days of the week - 3 days in a row on and then a 4th in a row every other week - and steady hours. His old position switched hours every week and days of the week every 3 months - it was sooooo hard to get used to. The hours on this shift are the kicker. He's only been doing it for 2 days right now - and so far - I'm hating the hours. I know it will be good in the long run and that within 6 months to a year - he will probally move up and hopefully get different hours, but man. This just isn't any fun. Totally doesn't help any that the boys started Holiday break at the same time, so they are both home all day every day. It will be fine, we will just need to adapt and adjust. And the steadiness will be a good thing!

I ordered alot of things online this year. Photos for the cards (that I bought on clearance for 75% off last year and put away) where FREE from Winkflash with a coupon code. I ordered photo magnets from Zazzle and calendars from Costco. So very nice to have it all printed out for me and not be still printing at the last minute. Of course, I'm still printing out layouts - ROFL!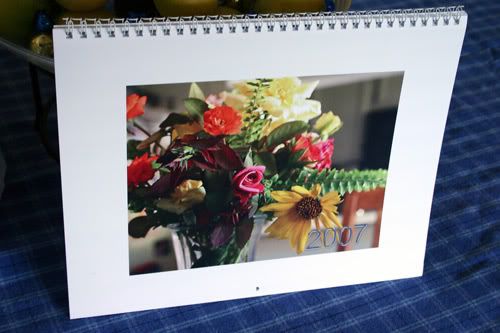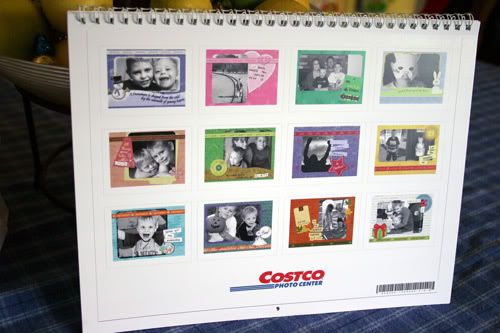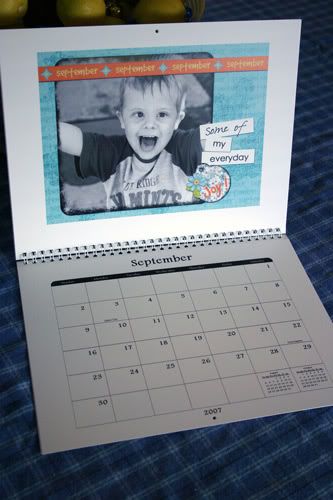 I used Heather's fabulous calendar quick pages for the calendar that she did from the Chick's Life kits - turned out so cute!
We did really well on shopping this year - got it all done at the beginning of this week! NICE! Still need to wrap and already feel like it's just toooooo much! We are trying to get Michael's parents here from VT, but we thought they would get a flight out tomorrow morning (flying standby). But - not happening. The snow in CO must have messed it all up. Hopefully they will make it here on Sunday then. If not - then no visit! :(
It's been really Christmas-y here this last week - nice and cold! Today it didn't make it above 47 degrees - chilly! :) We've actually had frost on the rooftops several mornings. It's been a bit breezy off and on - which means I'm picking up my luminary lights every other day... bummer.
Here's how the card for this year turned out. I wish that I could send one to every person that we know - but that's just not feasable, so consider this your card for this year!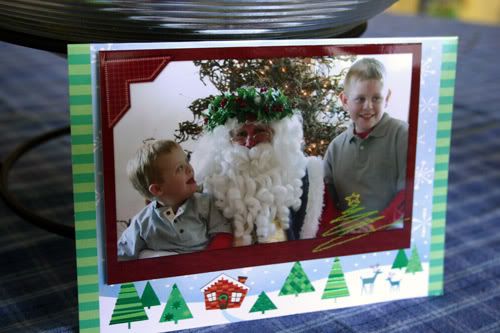 Merry Christmas!!!
I leave you with Holiday Wishes for a blessed Season filled with light, love and laughter, many special moments spent with your loved ones and peace!
Read more...