Yes - that's right it's down to 3. And I'm one of them still!
I sure as heck wouldn't want to be one of the ones picking... some Awesome layouts coming out of this competition!
So today went sooooo much better than yesterday! I was really worried that the computer would malfunction again, but it was fine. I de-fragged and swept and all that this morning before I started, just in case.
Had an eye appointment to get new glasses this morning (DH's & mine are 10 years old - time for new ones!), so that gave me time to think about the layout and the feeling that I wanted from it. Got out the HS scrapbook again and went to town scanning. I had much more, but didn't want too much in it. Had so much fun going through it again and relfecting on what things I thought would always be there. In HS you know things are going to change, but you somehow think they will stay the same, you know what I mean? So here's what came out...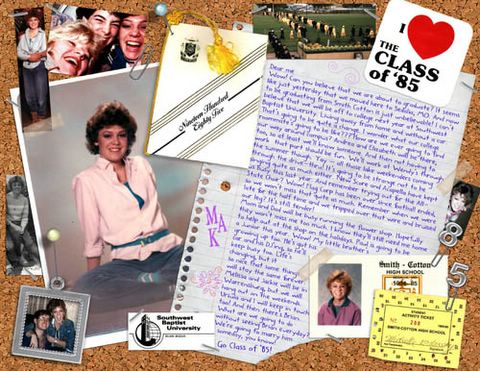 Journaling Reads:
Dear me-
Wow! Can you believe that we are about to graduate? It seems like just yesterday that we moved here to Sedalia, MO. And now to be graduating from Smith Cotton is just unbelievable! I can't believe that we will be off to college next year at Southwest Baptist University. Living away from home and without a car. That's going to be quite a change. I wonder what our college roommate's going to be like??? How are we ever going to find our way around campus? Andrea and Elizabeth will be there, too, so at least we'll know someone. And then not having to work- that part should be fun. We'll work at Wendy's through the summer though. Yay - all those lake weekenders coming through the drive-thru! It's going to be strange not to be singing quite as much either. New Score and Acapella have kept us busy this last year. And remember trying out for the All-State Choir? Wow! Flag Corp has been over since football ended, so we won't miss that quite as much. Remember when we were late for the half time and we tripped over that wire and bruised our leg? It's still tender!
Mom and Dad will be busy running the flower shop. Hopefully they won't miss me too much. I know they'll still need me home to help out at the shop on the holidays. Paul is going to be a Junior this year. Wow! My little brother's growing up too. He's got his car and his DJ'ing, so he'll keep busy too.
Life's changing, but it so nice that some things will stay the same forever. Melissa and Jackie will be in Warrensburg, but we will hang out on the weekends. Ursula and I will keep in touch too! And then there's Brian. What are we going to do without seeing Brian every day? We're going to marry him someday, you know!
Go Class of '85!


~~~~~~~~~~~~~~~~~~~~~~~~~~~~~

Awww - come on! You didn't really expect me not to do a collage with this did you? LOL! So much fun! I wanted this to look like the bulletin board in my room looked when I was 18. Fun, clutter-y, full of memorabilia. Just like it was back then. My only problem was narrowing down the memorabilia to what you see! My letter to myself would have been written at the end of my senior year. It's so funny to reflect on things now, 20 years later. So much has changed. So much of what I thought would be true forever, didn't last. My boyfriend and I broke up. The friends that I thought I'd have forever are no longer in touch. The friend that didn't even live in the same city as me is the one that has stuck through the bitter end with me! (Love you!) I've always loved saving all the little memorabilia of my everyday lives (as you can tell) and this just goes to show that you CAN incorporate it into your digi layouts too! That's part of why I love to scrapbook - all those memories that you think will last forever - fade in time. Capturing them on paper makes them last. Now whether those thoughts & feelings stay the same forever- that's another matter! LOL!

Credits:
Cork Paper - Time for School Sept. Mega Kit - Rachel Dickson
Notebook Paper - Cameron's Bug Jar Mini Kit - Kathryn Balint
Numbers - DigiChick Summer Memories Crop Kit - Alpha - Christy Lyle
Paper Clip - DigiChick Summer Memories Crop Kit - Hardware - Holly McCaig
Metal Frame - DigiChick Thank You Kit (retired) - Holly McCaig
Staple - DigiChick Thank You Kit (retired) - Holly McCaig
Pins - DigiChick Country Sun Kit (retired) - Holly McCaig
Flower Brushes - DigiChick Friends r Flowers Crop Freebie - Holly McCaig
Tape - Primarily Education Kit - Jessica Bolton

Font - CK Higgins Handprint
Read more...